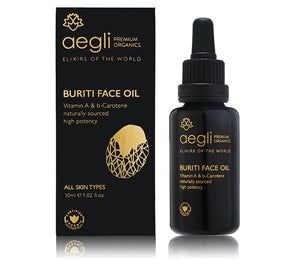 BURITI FACE OIL is 100% organic, holistic, remodeling & antiaging elixir with a very high concentration in Vitamin A and b-Carotene.
Known as the "tree of life", Buriti palm tree grows in the Amazonian forest of South America and it΄s oil is used traditionally for skin remodelling effect.
Benefits for the skin:
Boosts collagen production
Stimulates cell rejuvenation
Increases skin elasticity
Protects from oxidative stress
Protects from photo-aging
RECOOMMENDED FOR: ages 30+, all skin types – especially dry and mature skin
USE: Apply a small amount onto face and neck using your fingertips or pour a few drops in your face cream. For external use only. Avoid contact with eyes.