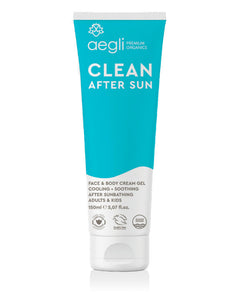 Refreshing and light textured Cream Gel for face and body with an anti-inflammatory action.
Enhanced with tricolour Pansy, Licorice, Epilobium and Aloe Vera which soothes, restores, deeply moisturize and relieves from the discomfort and itching of irritated skin.
The organic grape seed oil and Jojoba oil protect from oxidative stress and slow down photo aging.
The Clean After Sun cream gel is easily absorbed and leaves the skin soft and pleasantly scented.
VEGAN, CRUELTY FREE, GLUTEN FREE, CLEAN OCEAN, ideal for the whole family including children over 3 years of age.