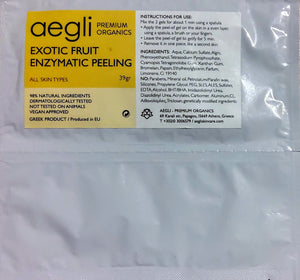 Revitalizing face mask that softens and protects the skin while preventing cutaneous aging.
Antioxidant, hydrating, toning, refreshing, plumbing, revitalizing, energizing, anti-aging.
Antioxidant, activates skin cell's metabolism.
Protects against environmental pollution, providing deep hydration, glow, tightness, reconstruction, regeneration and rejuvenation.
INSTRUCTIONS FOR USE:
mix the 2 gels for about 1 min using a spatula.
Apply the peel-of gel on the skin in a even layer using a spatula, a brush or your fingers
Leave the peel of gel to gelify for 5 min.
Remove it in one piece, like a second skin
INGREDIENTS: Aqua, Calcium Sulfate, Algin, Phenoxyethanol, Tetrasodium, Pyrophosphate, Cyamopsis, Tetragonoloba Gum, Xanthan Gum, Bromelain, Papain, Ethylhexylglycerin, Parfum, Limonene, Ci 19140
NO: Parabens, Mineral oil, Petrolatum,/Parafin wam, Silicones, Popylene Glycol, PEG, SLES, ALES, Sulfates, EDTA, Alcohol, BHT/BHA, Imidazolidimyl Urea, Diazollidinyl Urea, Acrylates, Carbomer, Aluminum, CL, Ethanolamines, Triclosan, genetically modified ingredients.