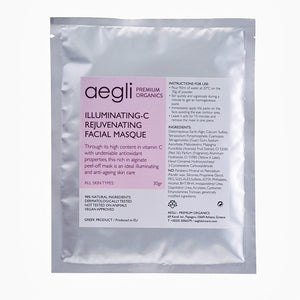 Through its high content in vitamin C with undeniable antioxidant properties, this rich in alginate peel-off mask is an ideal illuminating and anti-aging skin care.
Full of antioxidants and vitamin C, it eliminates free radicals and boosts collagen production for younger-looking skin while retaining firmness and elasticity.
Its antioxidant action activates skin cell's metabolism.

Antioxidants protect against free radical damage preventing skin aging evening and brightening the skin tone. Illuminating-C boosts collagen production as it hydrates and moisturizes the skin.
INSTRUCTIONS FOR USE: pour 90ml of water in 30g of powder. Stir quickly and vigorously during a minute to to get a homogeneous paste. Immediately apply the paste on the face, avoiding the eye contour area. Leave it to act for 15 minutes and remove the mask in one piece.