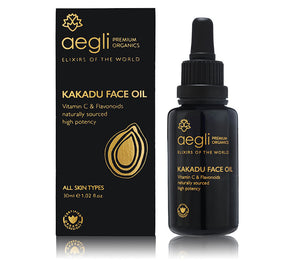 KAKADU FACE OIL is an 100% organic, holistic, brightening, antiaging elixir with 20% concentration in Vitamin C, 100x higher than in oranges  and 900 times higher than in blueberries.
Kakadu Plum is grown in Northern Australia and its oil has been used for centuries by Indigenous Australian people for its exceptional skincare benefits.

Benefits for the skin:
Illuminates the complexion
Acts against free radical formation
Improves skin immunity
Boosts collagen production
Balances oily skin
RECOMENDED FOR: ages 30+, all skin types  - especially oily skin
USE: Apply a small amount onto face and neck using your fingertips or pour a few drops in your face cream. For external use only. Avoid contact with eyes.