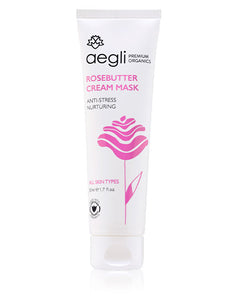 Rosebutter Cream Mask is an organic, enriched creamy face mask with three different types of Damascus Rose: Rose Water, Rose Oil and Rose Wax, as well as Rice, Avocado, and Macadamia oils.
The Rosebutter Cream Mask deeply moisturizes the skin, it softens its tired appearance, as well as the signs of aging, it soothes the skin's stress, it improves our mood and has aromatherapy holistic action. Ideal for all skin types, it may be used as a treatment 2-3 times per week.
Rosewater: it tones and rejuvenates the skin, it soothes the sensitive skin, it hydrates the dry skin and it contains anti-inflammatory properties for acne prone skin. It is an excellent anti-oxidant for all skin types due to it's high concentration in vitamin C but also especially beneficial for atopic or eczema prone skin types.
Rose Wax: extracted from the rose petals(Rosa damascena) following hand collection and unprocessed wax extraction procedure. The Rose Wax has a unique aroma and it collects in the highest degree the anti-oxidant, moisturizing and anti-aging properties of the Rose. It creates a thin, semipermeable layer in the skin, diminishing the loss of water and it enhances the skin's natural barrier operation.

Rose extract: it possesses a traditional medicinal action, being rich in polyphenol, proanthocyanidins, tannins and flavonoids. It has anti-oxidant properties, protecting the skin from oxidant stress.
Marrubium extract: anti-inflammatory in nature, it has a direct soothing action, it moisturizes and subsides the skin's stress.

Rice oil: it is very rich in vitamins E and B, fatty acids, linoleic and oleic acids, phytosterols, ferulic acid and

allantoin. It increases the moisture levels of the skin and has strong anti-oxidant properties.



Avocado and Macadamia Oils: both of these oils nourish and moisturize the skin in depth.
USE: apply on clean skin, 2-3 times per week, avoiding the eye area. Leave for 30' or during sleep. Wash with plenty of water. For external use only.
ΝΟ: Parabens, Mineral Oil, Petrolatum/Parafin Wax, Silicones, Propylene Glycol,PEG, SLES, ALES, Sulfates, EDTA, Phthalates, Alcohol, ΒΗΤ/BHA, Imidazolidimyl Urea, Diazolidinyl Urea, Acrylates, Carbomer, Aluminum, Ethanolamines, Triclosan, Synthetic Fragrances, GMOs