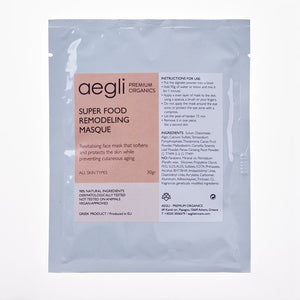 Revitalizing face mask that softens and protects the skin while preventing cutaneous aging.
Antioxidant, hydrating, toning, refreshing, plumbing, revitalizing, energizing, anti-aging.
Antioxidant, activates skin cell's metabolism.
Protects against environmental pollution, providing deep hydration, glow, tightness, reconstruction, regeneration and rejuvenation.
INSTRUCTIONS FOR USE: put the alginate powder into a bowl. Add 90g of water and mix it for 1 minute. Apply an even layer of mask tot he skin, using a spatula, a brush or your fingers. Do not apply the mask around the eye zone, or protect the eye zone with a compress. Let the peel-off harden for 15 minutes. Remove it in one piece like a second skin.
INGREDIENTS: SODIUM DIATOMEAE, ALGIN, CALCIUM SULFATE, TETRASODIUM PYROPHOSPHATE, THEOBROMA CACAO FRUIT POWDER, MALTODEXTRIN, CAMELIA SINENSIS LEAF POWDER, PANAX GINGSENG ROOT POWDER