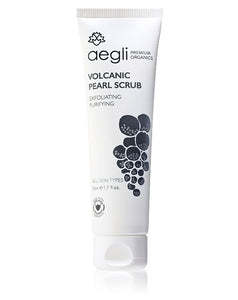 Organic creamy Facial Scrub containing 100% biodegradable grains of Volcanic Perlite, Biocellulose, Rosewater, Aloe and Calendula. The Volcanic Pearl Scrub effectively removes the dead cells, the environmental pollutants, as well as the skin's excess oil. It detoxifies without irritation leaving a velvety protective film on the skin.
Ideal for all skin types, the Volcanic Pearl Scrub may be used as therapy 2-3 times per week.
Rosewater: it tones and rejuvenates the skin, it soothes the sensitive skin, it hydrates the dry skin and it contains anti-inflammatory properties for acne prone skin. It is an excellent anti-oxidant for all skin types due to it's high concentration in vitamin C but also especially beneficial for atopic or eczema prone skin types.
Volcanic Perlite: these are small grains of volcanic glass from melted silicon which are smooth and round thus not irritating the skin. The Volcanic Perlite gently exfoliates any excess oil while cleaning and reducing the size of the pores.

Cellulose: a natural ingredient extracted from sustainable farming tree barks, it absorbs the pollutants and excess oil.
Aloe: it hydrates, rebuilds, heals leaving a thin, velvety protective film on the skin after exfolition.

Calendula: anti-inflamatory ingredient which provides a direct soothing action, it hydrates and protects the skin from oxidant stress.

Avocado and Sunflower oil: nourish and hydrate the skin.
USE: apply on clean skin, 2-3 times per week, avoiding the eye area. Leave for 5' and wash with plenty of water. For external use only.
ΝΟ: Parabens, Mineral Oil, Petrolatum/Parafin Wax, Silicones, Propylene Glycol,PEG, SLES, ALES, Sulfates, EDTA, Phthalates, Alcohol, ΒΗΤ/BHA, Imidazolidimyl Urea, Diazolidinyl Urea, Acrylates, Carbomer, Aluminum, Ethanolamines, Triclosan, Synthetic Fragrances, GMOs